S-100a, - Section 21 - Equipment & Accessories
---
Section 21 - Equipment, MK3 Pump
---
Contents
Section 21
21 - Equipment - Mk3 Wildfire Pump
Complete Course Table of Contents
---
Below is a diagram of a standard MK3 High Pressure Fire Pump. This pump is manufactured by Wildland Fire, formerly, Wajax. There are some important points and safety issues with these and all pumps.
Ensure correct fuel mix (24:1)
Ensure WHMIS label is on fuel tank (tank is not shown below)
Do not set pump in tall, dry grasses where hot muffler can start a fire. Be careful of not getting burned on the hot muffler
Pump must have water (primed) before starting
Ensure Over Rev Cut Out switch is pushed in and NEVER jam or tie this switch in the On (running) position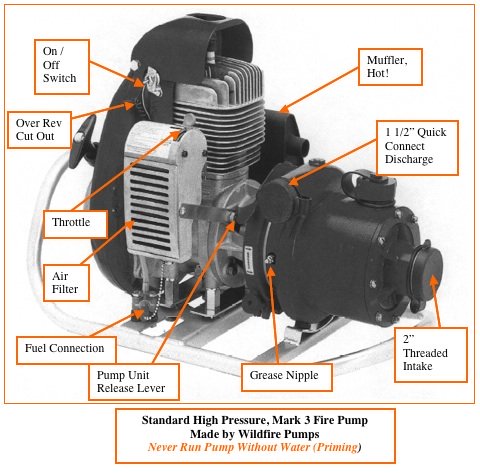 ---
Previous
---
If you do NOT see our FireSafeTraining Logo below, Click Here for your short quiz.