DO NOT COPY - ALL contents - Copyright Protected
DRAM Ventures Inc. / www.firesafetraining.com
Equipment Operator Fire Safety &
Fire Attack Procedures

Section - 21, Equipment & Accessories
Equipment Operator Wildfire Operations Awareness 

 
Fire Safety Awareness & Specific  Fire Attack Procedures Common in the Wildland Fire Environment

---
NOT YET COMPLETED 
FULL COURSE TABLE OF CONTENTS
MODULE ONE - Basic Fire Suppression & Safety
MODULE TWO - Equipment Operator Fire Safety and Fire Attack Techniques
MODULE THREE - Fire Entrapment Avoidance & Safety
MODULE FOUR - Risk Management & The Human Factor
---
Equipment Operator Fire Safety &
Fire Attack Procedures
Module Two
Safe & Effective Equipment Operations in the Wildland Fire Environment
Contents  NOTE, THIS CHAPTER MAY BE TAKEN OUT AND SUBJECT MATTER MOVED ELSEWHERE
Chapter 5 -

may need to change and remove this
21 - Equipment - Mk3 Wildfire Pump
Complete Course Table of Contents
---
Lesson 21 - Equipment, MK3 Pump
---
Below is a diagram of a standard MK3 High Pressure Fire Pump. This pump is manufactured by Wildland Fire, formerly, Wajax. There are some important points and safety issues with these and all pumps.
Ensure correct fuel mix (24:1)

Ensure WHMIS label is on fuel tank (tank is not shown below)

Do not set pump in tall, dry grasses where hot muffler can start a fire. Be careful of not getting burned on the hot muffler

Pump must have water (primed) before starting

Ensure Over Rev Cut Out switch is pushed in and NEVER jam or tie this switch in the On (running) position
DO NOT COPY - ALL contents - Copyright Protected
DRAM Ventures Inc. / www.firesafetraining.com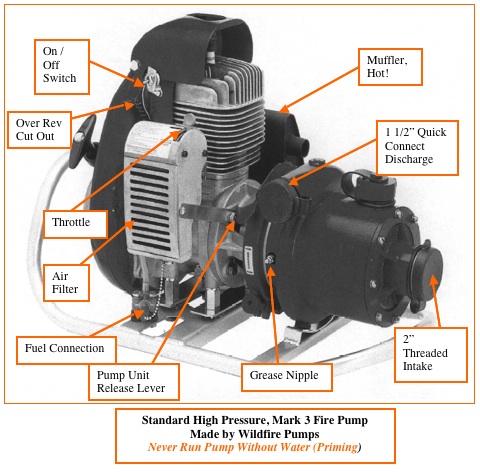 ---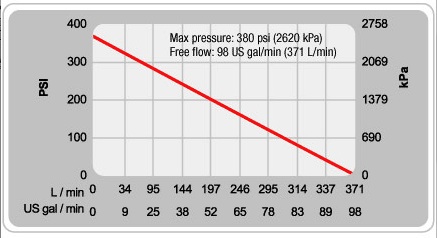 You may find the above chart useful if you wish to calculate how long you can pump out of a limited water source.  (i.e. water truck or portable bladder)
---
NEXT ?????????????
---
PREVIOUS PAGE Module One, Chapter 4,  Lessons 16 - 20
---
---
DO NOT COPY - ALL contents - Copyright Protected
DRAM Ventures Inc. / www.firesafetraining.com