WHMIS MSDS
DO NOT COPY - ALL contents - Copyright Protected
DRAM Ventures Inc. / www.firesafetraining.com
---
MATERIAL SAFETY DATA SHEET (MSDS)
A technical document providing information on a controlled product, for example:
hazardous ingredients
hazards (fire, explosion, reactivity)
health effects of exposure (acute and chronic)
hazard evaluation related to storage and handling
measures to protect workers
emergency procedures
DO NOT COPY - ALL contents - Copyright Protected
DRAM Ventures Inc. / www.firesafetraining.com
---
You may run across two "sizes" of MSDS Forms in Canada.
A more common one is the 9 Section Form. There is also a newer 16 Section Form.
These sections are;
Product and Supplier Information
Hazards Identification
Composition / Information on Ingredients
First Aid Measures
Fire & Explosion >
Accidental Release Measures
Handling & Storage
Exposure Controls / Personal Protection
Physical & Chemical Properties
Stability and Reactivity
Toxicological Information
Ecological Information
Disposal Considerations
Transportation
Regulatory Information
Other
---
Below is a Sample of a 9 Section MSDS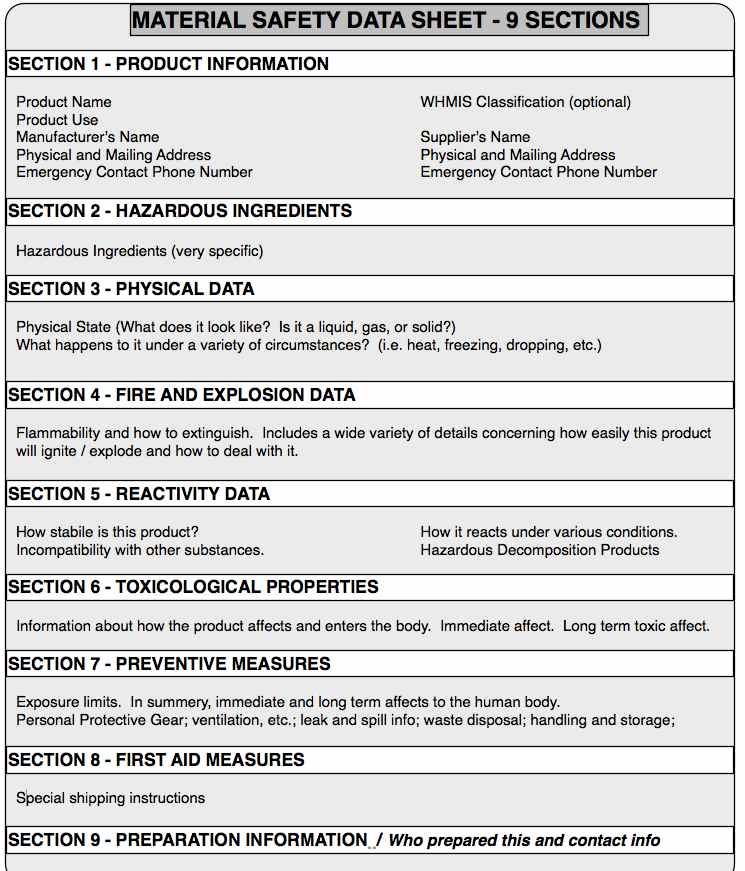 MATERIAL SAFETY DATA SHEETS (MSDS) are commonly kept in a standard 3-ring type of binder which is labelled, "MATERIAL SAFETY DATA SHEETS". EVERY CONTROLLED PRODUCT USED AT A SPECIFIC WORKSITE MUST HAVE THE CORRESPONDING MSDS INFORMATION AVAILABLE
This would also include field worksites where the MSDS information may be in a pickup truck that is NOT LOCKED.
MSDS INFORMATION may be in any language and ALL workers must be able to understand them.
MSDS INFORMATION may be on a computer as long as ALL workers know how to access this information on the computer.
The downside to a computerized MSDS system is that an emergency incident may cause a power outage at the critical time when the MSDS information is needed.
---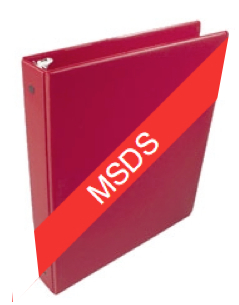 Standard 3-ring binder for Material Safety Data Sheets

---