Table of Contents
1. 1988 & WHMIS 2015 / GHS Overview
2. 1988 & 2015 Classification
3. 1988 & 2015 Labels
4. 1988 (MSDS) Material Safety Data Sheet 
    WHMIS 2015 / GHS SDS (Safety Data Sheet)
5. 1988 Summary & Quiz
The WHMIS Label
---
THREE MAIN TYPES OF LABELS
Supplier Label - Supplier ensures this label is on all their "Controlled Products".
Workplace Label - This will be created by someone in the workplace.  There is a minimum amount of WHMIS / GHS information that MUST be on it.  
Other Labels (at workplace) - These are labels or markings specific to that (your) workplace only. 
---
Note

The 1988 WHMIS Supplier Label's border is hatched and may be any colour.

---

Note

The 2015 WHMIS Supplier Label's border is solid..

---

---
---
1988 Supplier Label Example (below)

The HATCHED border on the label may be in any colour (it is the hatching or broken border that "catches" the eye)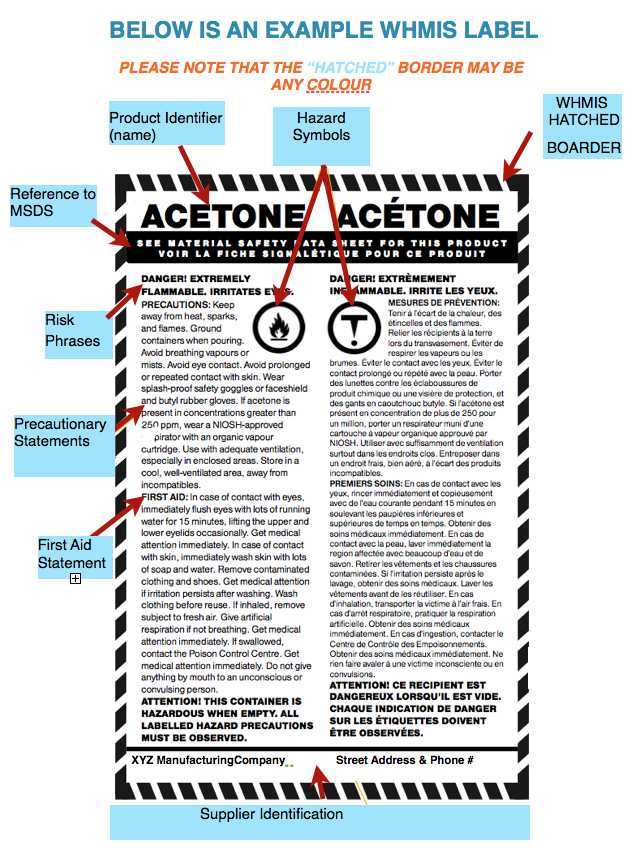 PRODUCT IDENTIFIER (NAME)

RISK PHRASE(S)

HAZARD SYMBOLS

PRECAUTIONARY STATEMENT(S)

FIRST AID MEASURES

REFERENCE TO THE MSDS (MATERIAL SAFETY DATA SHEET)

SUPPLIER IDENTIFIER (NAME) and contact information
---
1988 WHMIS Supplier Label (Visual at a glance)

 WHMIS 2015 / GHS - Supplier Labels

(Visual at a glance)


solid borders
diamond shaped pictograms
red borders on pictograms

only six (6) statements

not seven (7) as 1988 WHMIS
---
Below: (Larger View) WHMIS 2015 / GHS - Supplier Label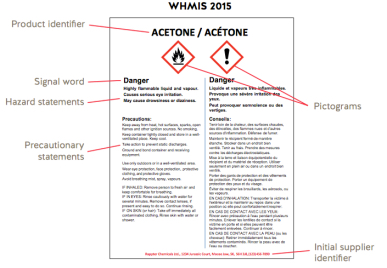 | | |
| --- | --- |
| 1. Product Identifier  | 1. the product name exactly as it is listed on the container and on the Safety Data Sheet (SDS) |
---
| | |
| --- | --- |
| 2. Hazard Pictograms | 2. as determined by the manufacture's classification.  It is possible a pictogram is NOT required |
---
| | |
| --- | --- |
| 3. Signal Words | 3. "Danger" or "Warning" are used to emphasize the hazards and the severity |
---
| | |
| --- | --- |
| 4. Hazard Statements | 4. A brief standardized statement of all hazards based on the product (#1) hazard classification. |
---
| | |
| --- | --- |
| 5. Precautionary Statements | 5. These statements state recommended steps to take in order to minimize or prevent, adverse effects from harmful exposure to the product.  This will also include protective equipment (PPE) and emergency and first-aid measures. |
---
| | |
| --- | --- |
| 6. Supplier Identifier (their name) | 6. The name address and contact information of the company that made, sold, or imported and is responsible for the classification and supplier label and SDS. |
---
1988 WHMIS WORKPLACE LABEL EXAMPLE (BELOW)

This is an example of the three pieces of information that must be on a workplace container that may be used for more than one shift.  The contents of the container would have been taken from another, larger, bulk type of container also on the work site.  (example: 45 gal. / 205 liter drum of cleaning solvent)

---
WHMIS 2015 WORKPLACE LABEL REQUIRMENTS

Product Identifier (Name)
Signal Word(s)
"DANGER" "WARNING"
- degree of hazard and what may result with improper handling
- precautionary steps (i.e. PPE, what to do and not to do while and after handling this material(WHAT TO DO TO BE SAFE)
See SDS (SAFETY DATA SHEET)
---
Below is an example of OTHER MEANS OF IDENTIFICATION / LABELING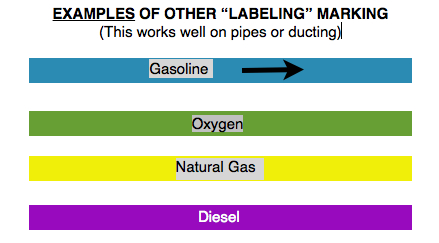 These coloured "bars" represent pipes or ductwork that a worker may see in their place of employment.  The actual colours may be any colour the company wishes to use, however, those colours MUST be standard for the complete workplace. The ductwork may or may not have actual words written on them - maybe just the colour coding.  Arrows are helpful too.

---
IT IS THE EMPLOYER'S RESPONSIBILITY TO CONDUCT "IN-HOUSE" TRAINING TO ENSURE ALL WORKERS LEARN AND UNDERSTAND THE SPECIFIC WHMIS HAZARDS AND POLICIES FOR THAT SPECIFIC WORKPLACE.
---
OTHER/WORKPLACE/SINGLE SHIFT LABEL EXAMPLES
If a worker is using a product only for their shift then the container holding that substance need only be labeled as to the name of it's contents. At the end of the shift that product must be disposed of in the appropriate manner
---
---