Table of Contents
1. 1988 & WHMIS 2015 / GHS Overview
2. 1988 & 2015 Classification
3. 1988 & 2015 Labels
4. 1988 (MSDS) Material Safety Data Sheet 
    WHMIS 2015 / GHS SDS (Safety Data Sheet)
5. 1988 Summary & Quiz
1988 WHMIS AND

WHMIS 2015 / GHS

- IMPLEMENTATION, SUMMARY & QUIZ
---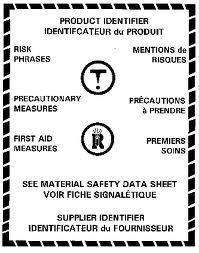 Supplier Label above is 1988 WHMIS
Supplier Label on right is WHMIS 2015 / GHS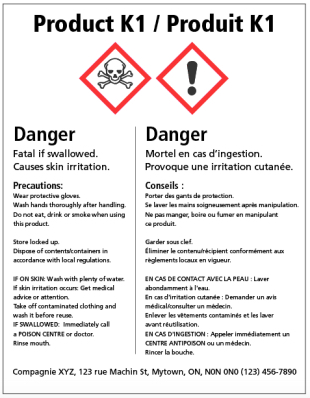 ---
No IMPLEMENTATION Changes from the new and old systems
Successful WHMIS Implementation requires co-operation and input from the EMPLOYEE & EMPLOYER
The following  steps are involved
Assign responsibility for program implementation.

Set up an inventory to determine all hazardous products in the workplace.
Ensure all labelling and MSDS /

SDS

requirements are fulfilled.

Establish workplace controls.

Establish emergency procedures.

Provide worker education (this course) and training (at your workplace)
Review and upgrade your program when required.
---
REMEMBER There are two parts to the WHMIS program.
1. Classroom or Theory Part - EDUCATION (this online course is an example)
2. On the work-site training - IMPLEMENTATION Training which your boss, supervisor or designated person, MUST deliver to you prior to working on the job.
A few of the Key Issues at your workplace are;
what "controlled" products might you be working with?
where is the safety equipment kept?
what are the company emergency procedures?
where is the MSDS /

SDS

information kept in your workplace?
The primary VISUAL changes to the WHMIS 2015, Supplier Label are; No hatched border, red border on round Hazard Pictograms within the label(True or False)
---
---
---